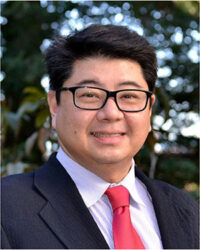 Dr. Thomas Tanbonliong has been selected as the new Pediatric Dentistry Graduate Program Director, the Department announced last week. Dr. Tanbonliong brings a wealth of experience and expertise to the position, coming to the UW from the University of California San Francisco School of Dentistry, where he currently serves as their Pediatric Dentistry Residency Program Director.
In addition to his more than two decades of dental educator experience and being well published in the field of pediatric dentistry, Dr. Tanbonliong has been a prominent figure in academic and organized dentistry. He has served in numerous leadership positions in esteemed organizations such as the American Academy of Pediatric Dentistry (AAPD), the American Board of Pediatric Dentistry (ABPD), and the California Society of Pediatric Dentistry (CSPD), among others.
"Along with being one of the most qualified and capable academic pediatric dentists anywhere, Dr. Tanbonliong's temperament also sets him apart," said current interim Graduate Program Director Dr. Travis Nelson, who has held the position for the past two years while also serving as Chair of the Pediatric Department.
"Currently, the UW Pediatric Dentistry residency program is in really good shape," said Dr. Nelson. "We have great culture and a solid departmental structure that supports the clinical and academic needs of the department. Because the program has a solid foundation, Dr. Tanbonliong will be able to focus on bringing new ideas and perspectives that will enhance the quality of the resident experience."
In anticipation of his move from California, Dr. Tanbonliong will visit the UW School of Dentistry in the coming months. The Department of Pediatric Dentistry looks forward to Dr. Tanbonliong stepping into his role as the new Graduate Program Director this Summer.
"Dr. Tanbonliong is a kind and thoughtful individual, and everyone who met him during the interview process felt that he was a natural fit for our program," said Dr. Nelson. "We are extremely fortunate to have someone so qualified leading our program into the future.